Top police officer's 'turn speed cameras on' plea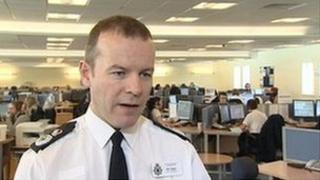 The chief constable of Avon and Somerset says he wants to see fixed speed cameras switched back on.
Nick Gargan said he has written to local councils this week, offering to help them reactivate the cameras which were turned off in 2011.
He said they were originally switched off to save money at the suggestion of the police.
It is thought the income from fines could go towards running the scheme but no firm plans have been announced.
Mr Gargan said: "I've not seen any evidence of any value that say speed cameras harm - I have seen evidence that on balance they can help and reduce casualties.
"Excess speed makes accidents that much more likely and makes the accidents that happen more dangerous. It's the job of the police and its partnerships to work together to provide a range of deterrents.
"If vehicles are travelling at sensible speeds then fewer people will die," he added.
Fixed speed cameras and cameras monitoring junctions were switched off in 2011 after the government stopped funding the Safety Camera Partnership.
The police had asked councils to take over the running and maintenance cost of the cameras but the West's local authorities argued they were too expensive to run adding many needed to be upgraded at "a significant cost".
Last month Bristol's elected mayor, George Ferguson, revealed he had been in talks with both the constabulary and the office of the Police and Crime Commissioner, Sue Mountstevens, about reactivating cameras.
But Mr Ferguson said he believed the money raised through fines had to be returned to local authorities.