Downside Abbey: UK's largest monastic library to open to public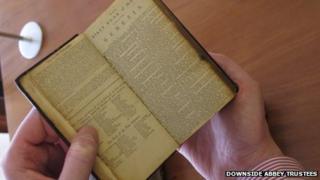 The largest monastic library in Britain is to be "unlocked" and opened to the public using a £856,000 lottery grant.
Downside Abbey, which is home to the oldest Benedictine Monastic Community in the UK, has some 450,000 books in a highly valuable and varied collection.
Among the collection are some of the earliest copies of the Bible printed in English, including one dating to 1571.
The cash is to be spent on repairing the building's library and creating an electronic catalogue of the collection.
'Secret garden'
The Roman Catholic monastery, at Stratton-on-the-Fosse in Somerset, dates back to 1882.
Its abbot, Dom Aidan Bellenger, labelled the library as "the secret garden" of the abbey - a "great centre of Christian culture and heritage".
He said: "Home to a vast range of books, pamphlets, periodicals and papers dating back centuries, the library has palpable potential and Downside are delighted to have its rightful place as a national centre for religious heritage unlocked thanks to the support of the Heritage Lottery Fund."
The collection is made up of theological and historical works, such as the archives of the English Benedictine Congregation dating to the 17th Century, as well as books on the Great War, sundials and medieval Christian devotional books.
A copy of the Bible that once belonged to Cardinal John Henry Newman, who was beatified by Pope Benedict XVI during his visit to the UK in 2010, is also in the library.
Tamsin Daniel, from the Heritage Lottery Fund South West Committee, said the library had previously only been available to select scholars.
She said: "A wide variety of learning activities - including guided tours, exhibitions and opportunities for the public to see the conservation process in action - will help people understand the importance of the collections kept at Downside and bring the archives into the 21st Century through an exciting digitisation programme."