Ansford rail bridge work angers Castle Cary traders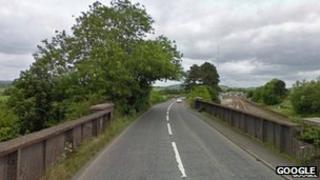 Traders are angry they were not told about the partial closure of a road near their town in Somerset.
Network Rail has closed one lane of part of the A371 to carry out an investigation of the structure of the Ansford Bridge, near Castle Cary.
The bridge will be fully closed on 8 July for 19 weeks while repairs are carried out.
Network Rail apologised saying the work is necessary to avoid "unanticipated extensions" to its plans.
The work was due to start last September but was postponed following complaints about poor consultation.
Antonia Griffin, who runs a boutique in Castle Cary, said: "No one knew about this [partial closure]. They have had no communication with us."
About 400 Castle Cary residents attended a public meeting in May to discuss the issue. They want a temporary bridge put in place while the work is carried out, but Network Rail said this would be cost prohibitive.
A Network Rail spokesman said: "These are investigative works; using trial holes in the road surface to inspect the condition of the superstructure to give us a more detailed understanding of the bridge deck's condition."
He said the work would take about five days, and will not affect traffic flows during the nearby Glastonbury Festival, which takes place from 26-30 June.