Astronomer William Hershel sculpture unveiled in Bath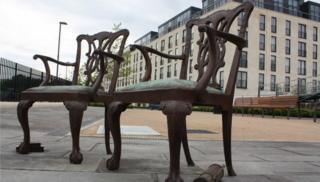 A sculpture of two chairs has been unveiled in Bath as a tribute to astronomer Sir William Herschel.
The scientist, who discovered the planet Uranus in 1781, lived in the city with his sister.
The idea for the bronze sculpture was developed from references to the pair sitting outside with a telescope and searching for planets.
Debbie James, curator of the Herschel Museum of Astronomy in Bath, said a tribute in the city was "long overdue".
Ms James welcomed the sculpture, which is located at the Bath Riverside development, but said she wanted more recognition for the pair.
'Obscure allusion'
"The situation on the Riverside development is not central and unlikely to be seen by visitors to Bath, and secondly it is not a depiction of William or Caroline but an important, but nonetheless obscure, allusion to them."
The German-born British musician became interested in astronomy later in life and it was using a telescope that he had built through which he discovered Uranus.
Dr Gary Mathlin, an academic at the University of Bath and committee member of the William Herschel Society, said the discovery was hugely important.
He believes more should be done to strengthen the city's links with the astronomer.
"He doubled the size of the known universe and I think it would be wonderful to have proper statues to William and Caroline in the centre of Bath," said Dr Mathlin.
"Passion is the thing that William and Caroline had - passion for discovery. That's what we want to highlight, that science is not cold.
"For the tourist and the casual visitor, having a real likeness of Hershel somewhere in the main area of the city would be fantastic."
The chairs statue was made by Bristol-based sculptor Patrick Haines, who said the piece was of Georgian chairs taken outside to interact with the river view and night-time stars.
"Where I found the link regarding my sculpture was with the references to Caroline sitting in a chair out in the street with William sweeping the heavens with his telescope for new planets and studying the moon.
"I had the feeling of the pair being like two moths being drawn to the moonlight.
"When people see the sculptures I hope they are intrigued enough to take a seat and perhaps reflect on the natural world in the sky above and the river below."