Frome derelict toilets turned into art gallery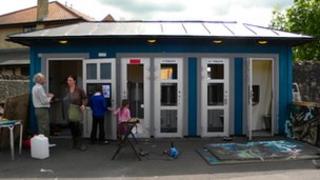 Work to transform derelict public toilets in Somerset into an art gallery and cafe has started.
Locals wanted to save the building, which contains an artwork depicting Frome's industrial past, and raised £11,000 in 13 weeks.
Frome businesswoman Katy Duke said using online crowdfunding had been key to the project's success.
The organisers are aiming to have the gallery open on 29 June in time for the Frome Festival in July.
'Gone forever'
The toilet building, which was opened in 2000, was built with an artwork created by local artist Helga Watkins-Baker in the back wall.
The work contains glass blocks which have artefacts from Frome's past industries embedded in them.
Ms Duke said she and other people in the town were worried the stone wall containing the glass blocks would be demolished and they wanted to "rescue the artwork".
She said they set up the "Loop de Loop" project because something had to be done "right now or something precious would be gone forever".
"This was the urge to salvage a perfectly serviceable building which had been boarded up for seven years but contained hidden secrets," she said.
The building will be transformed from a row of five toilets into four micro-art galleries and the former disabled toilet will become a food kiosk.
Ms Duke added: "This and other Frome projects show that passion and creativity can overcome enormous hurdles in dealing with buildings and bureaucracy.
"They thrive on the talents and energy of neighbours and friends and Frome is a bit of a hotbed of this sort of activism."
'Creative spirit'
She turned to crowdfunding after a couple of funding bids were refused.
The project used the Spacehive site which allows the cost of community projects to be met through online contributions.
Chris Gourlay, from Spacehive, said: "This kind of creative spirit and lively creativity could show many UK towns a thing or two about how to come together and make things happen.
"The community has really got behind the Loop De Loop project and everyone, from residents to the council, should be very proud."
The project has been supported by 22 organisations including Frome Town Council, Mendip District Council and Experian.
TV presenter Kevin McCloud, who lives locally, also contributed to the scheme.