Catherine Wells-Burr death: No evidence from murder duo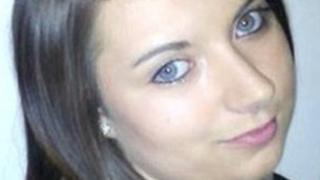 Two defendants accused of murdering a business analyst will not give evidence during their trial, a court has heard.
Anna Lagwinowicz and her uncle Tadevsz Dmytryszyn are accused of dumping the body of Catherine Wells-Burr, 23, in her Ford car before setting it alight.
It is alleged Miss Wells-Burr's boyfriend, Rafal Nowak, 31, first smothered her to death in their home in Chard, Somerset, on 12 September.
Ms Lagwinowicz was due to give evidence to a jury at Bristol Crown Court.
The court was told that neither Ms Lagwinowicz, 32, or Mr Dmytryszyn, 38, would give evidence in their defence - as is their right.
An alleged plot is said to have been hatched between the three Polish nationals so they could claim a six-figure life insurance pay out.
Mr Nowak, who lived with Miss Wells-Burr while still sleeping with his ex-girlfriend, Ms Lagwinowicz, wept during four days of evidence as he denied having played any part in her death.
Evidence complete
The jury heard that two cars were spotted travelling "at speed" through the village of Combe St Nicholas, near Chard, at about 05:15 GMT on the morning Miss Wells-Burr body was discovered in her burning car.
Richard Nicholls told the court one of the cars was a red hatchback, but that he did not think it was a Ford Focus.
His wife, Joanne Nicholls, told the court: "It could have been."
The couple were shown a photograph of Ms Lagwinowicz's Honda Civic car and both said it was not the vehicle they had seen closely following behind the red car.
Ms Lagwinowicz is said to have joined Mr Dmytryszyn in dumping Miss Wells-Burr's body in her red Ford Focus before setting fire to the car at about 06:00.
Mrs Justice Sharp told the jury: "The evidence in this case is now complete."
The jury were told they would hear closing speeches and the judges summing up before they retire to consider their verdicts next week.
Mr Nowak, of Willow Way, Chard, Ms Lagwinowicz, of South Street, Taunton, and Mr Dmytryszyn, of Holway Avenue, Taunton, all deny murder.