Yeovil Town promotion: Open-top bus parade celebrations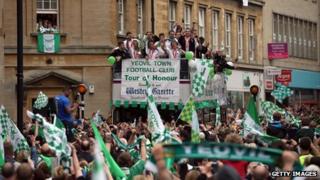 An open-top bus parade has made its way through Yeovil to celebrate Yeovil Town's promotion to the Championship.
Thousands of people applauded the players' celebration bus as it made its way from Huish Park to the town centre.
The Glovers beat Brentford 2-1 at Wembley on Sunday to reach the second tier for the first time.
During the parade the bus stopped at The Borough where crowds gathered to allow the squad to sign autographs and pose for pictures with fans.
Manager of the season
Manager Gary Johnson said: "There are a lot of stories of people who've supported the club for a long time - it's great to see the young and the old - great to see such a fantastic turnout."
Johnson has also been named as the League One manager of the season by the League Managers Association.
Speaking of the award, he added: "I feel very proud and you do accept those awards on behalf of everyone at the football club.
"I'm just there as the manager but it is for everyone at the football club - I'm proud of the football club just as I am for the fans - I'm humbled by the response here today."
With one of the smallest budgets in League One, Yeovil started the season among the favourites for relegation but finished fourth in the final standings.
Chief executive Martin Starnes said it was "well known in football" the club had to work within its resources.
"We've done that for several years and sustained our place in League One and we got promotion to the Championship," he said.
"The philosophy won't change. We'll have to work within our resources but of course there will be a lot more money coming in so we'll deploy that sensibly in the same way that we've done in recent years."
Fans got a second chance to congratulate the team when the players bus left Huish Park at 17:15 BST to take them to a civic reception.