Anger over removal of Pilton's red telephone box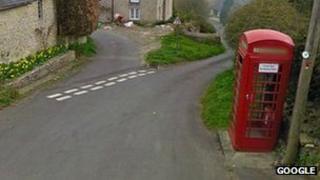 Residents in a Somerset village are angry that a red phone box has been removed.
British Telecom posted a notice inside the out of service box in Pilton to say it was being decommissioned a year before it was taken away on Tuesday.
The company said it had previously invited the local parish council to adopt the box for £1, but had not received an application.
Resident Sylvie Drake said the box is an "icon" to the village.
"It's not just any telephone box, it's the only one," she said. "This village is where the festival takes place and many villagers have vivid memories of people using that phone box before the advent of the mobile.
"It's a direction pointer to the village."
Pilton Parish Council said it had decided not to adopt the phone box several years ago due to insurance issues, but had not been told by BT that it was due to be removed this week.
A spokesman said the matter will be discussed at the next parish council meeting and invited residents concerned over the issue to attend.