North Somerset Council's chief executive to retire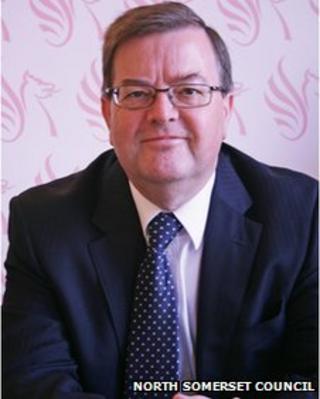 The chief executive of North Somerset Council has announced he is to retire after 24 years with the authority.
Graham Turner has been the chief executive for 12 years and will step down in November.
He said: "This has been a very difficult decision for me as I love North Somerset and feel that I have been incredibly privileged to have had this role."
The council has said it hopes to appoint his successor in July.
Council leader, Conservative Nigel Ashton, said: "He is respected not only in North Somerset but across local government. It will be a challenge to replace him.
"He had led the council into closer and more fruitful relationships with other organisations like the police, health service and the college and the innovative partnerships we now have will stand as testament to Graham's progressive approach."
Mr Turner joined the council - formerly known as Woodspring District Council, in 1989, before it became a unitary authority. He has also worked in Norfolk, Warwickshire, Humberside and Nottinghamshire.
"Although I am retiring to spend some long overdue time with my wife, Julie, I will continue to take a strong interest in local government and other local public services and hope to use some of what I have learned to contribute to their future in any way I can," added Mr Turner.