Nick Gargan against privatising front-line policing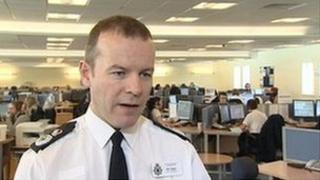 Front-line policing in Avon and Somerset could not be done better by a private company and would be a step too far, its chief constable has said.
Nick Gargan is taking part in a Police Federation debate examining whether some of the force's functions could be improved by external contractors.
Federation vice chairman Steve White said its biggest concern was protecting front-line services.
The conference is taking place in Bournemouth.
'Matter of principle'
Speaking ahead of the discussion, Mr Gargan said as chief constable he was directly accountable for front-line services.
"Those patrolling schemes that are going on the streets, our key investigative functions, the intelligence functions are things for which I as chief constable am directly accountable.
"I've yet to see a private sector provider who can offer us a skill set and offer us an alternative that improves on what we've got.
"My view is that there is such a thing as too far," he added.
Mr White added the protection of the public was the duty of government and the police.
"Our biggest concern is the privatisation of critical response and frontline.
"Private companies are just there to make a profit... they'll just cherry-pick the profitable bits
"When people go into a police station they want to see a police officer - not someone from a company with a logo.
"It's a matter of principle for the Police Federation," he added.
The Police Federation of England and Wales is a staff association for all police constables, sergeants, inspectors and chief inspectors.