Bath Abbey hosts homeless art exhibition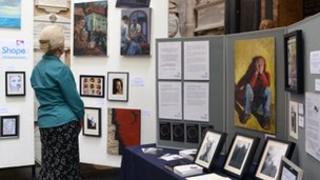 Art by homeless people living in Bath has gone on show at the city's abbey.
The exhibition, which includes film, photography, artwork and creative writing, hopes to challenge perceptions of homeless people's potential.
"We are very impressed and delighted by the work that has been produced," said Kerry Headen, homelessness initiative manager at Bath Abbey.
As part of the event the abbey will also host a showcase of work carried out by Bath's social enterprises.
"Participants have been able to take full advantage of the project to learn new skills and to express their experiences of homelessness, addiction or mental health in all sorts of creative ways," said Jeff Mitchell from social enterprise Clean Slate.
When the exhibition, called Think Different, ends on 19 May it will be shown at a second venue at Stall Street as part of Bath Fringe Festival - a visual arts festival.
Think Different is a partnership between Bath Abbey and Bath homeless and housing organisations including the Big Issue, Developing Health and Independence, Julian House, Genesis Trust and Stonham Housing.