Somerset woman dies after eating deadly mushrooms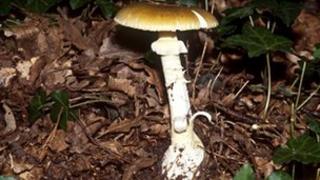 A woman died after eating one of the world's most deadly mushrooms, picked from her garden, an inquest heard.
Christina Hale gathered the fungi to make soup, unaware they were poisonous death cap mushrooms and consuming just half of one mushroom could be fatal.
Mrs Hale, 57, and her husband, from Bridgwater, Somerset, were taken to hospital on 17 November, but she died of multiple organ failure.
The coroner for West Somerset recorded a verdict of death by misadventure.
An inquest in Taunton heard Mrs Hale and her husband, Jocelyn Lynch, 49, began to feel unwell the morning after eating the mushroom soup.
Mr Lynch said they had picked mushrooms before but on this occasion his wife had made the soup while he was at work and he did not know how many mushrooms she had put in.
'No antidote'
He said they started to suffer from vomiting and diarrhoea and Mrs Hale called an out-of-hours service saying she had "eaten some dodgy mushrooms".
Mr Lynch said a doctor examined Mrs Hale but thought it was norovirus and the mushroom soup was incidental.
Later that night he was woken by shouting and found his wife being treated by a doctor and a team of paramedics.
Mrs Hale was taken to Musgrove Park Hospital, followed by her husband, who was also admitted.
Dr Helene Lindsay, a consultant in intensive care and anaesthetics, told the inquest Mrs Hale's heart, which had been poisoned, stopped at least four times.
The deadly toxins also struck her kidney and liver.
Experts at the National Poison Centre in Cardiff identified the mushrooms from photographs sent to them by email.
Mrs Hale died at the hospital on 19 November, four days after eating the mushrooms. Mr Lynch recovered and was allowed to return home.
The inquest was told consuming just half a death cap mushroom, which has a similar appearance to safe varieties, can be fatal and there is no antidote.
Coroner Michael Rose said: "I am quite satisfied by the evidence that the assault that had been made from the toxins into the body of Christina was too great to survive.
"I think the lesson is one should never pick mushrooms, particularly under trees, unless you know exactly what you are doing."