Bath 'bus gate' challenge is dismissed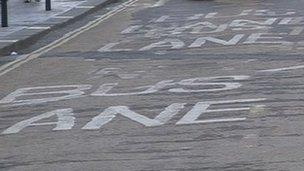 A challenge against a decision to create a second "bus gate" for Bath has been dismissed.
Bath and North East Somerset Council wants to ban all vehicles except buses and taxis using the eastbound side of Dorchester Street.
Critics said the plan was "poorly thought through" and would "cause chaos" in the area.
But a cross-party scrutiny panel reviewed the decision and decided it should go ahead as planned.
Speaking after the meeting conservative councillor Tim Warren, who opposed the scheme, said: "We're just very disappointed at the result and concerned about the residents in Bath where all the traffic is going to pile up.
"We think it has been a half job really. We would have preferred to see it as part of an overall transport strategy.
"It's just been very poorly thought through, it will produce more congestion, yet have little to no benefit.
"Now there will be an 18-month trial and we'll see what happens from there, but I just think they haven't really listened to the people."
The Liberal Democrat-controlled authority believes the £20,000 scheme will help reduce congestion.
The trial will see a ban on eastbound traffic on the stretch of road between the bus station and the railway station between 10:00 and 18:00.
A spokesman for the council said: "The scheme is experimental so that the full impact of the scheme can be assessed before a final decision is made or modifications are made to the scheme."
A bus gate is already in operation in the city between Northgate Street and Pulteney Bridge between 10:00 and 18:00.
Related Internet Links
The BBC is not responsible for the content of external sites.