University of Bath student jailed over tutor bribe bid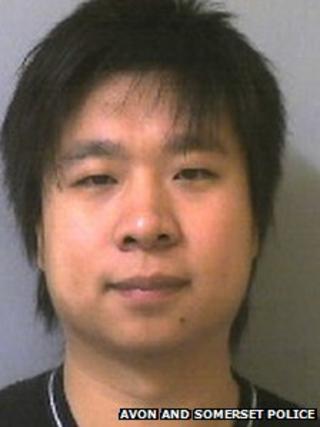 A failing student who tried to bribe his tutor while carrying a loaded air pistol has been jailed for 12 months.
Yang Li, 26, placed £5,000 in cash on the professor's table but when he was told to leave, the gun fell from his pocket.
Sentencing Li at Bristol Crown Court, Judge Michael Longman told him the weapon had caused "fear" and "alarm".
Li, who admitted bribery and possessing an imitation firearm, was also ordered to pay £4,800 in costs.
The court heard the innovation and technology management masters student had arranged the meeting with his University of Bath professor on 23 November.
Mark Hollier, prosecuting, said Li was awarded a 37% mark in his dissertation - three marks off the 40% needed to pass - and wanted to discuss his options.
'A spectacular mistake'
Prof Andrew Graves, head of the University's School of Management, told Li he could resubmit the 12,000-word essay, appeal against the mark or accept it and withdraw from the course.
But Li told the professor "I am a businessman", before placing £5,000 in cash on the table in front of him.
"There is a fourth option, you can keep the money if you give me a pass mark and I won't bother you again," he told Prof Graves.
The court heard Prof Graves asked Li to leave but as the student put the money away, the pistol - loaded with six pellets - fell out of his pocket and on to the floor.
Judge Longman told the student: "You attempted to persuade a university professor to behave in such a way that if it had been successful you would have undermined the integrity of the universities in the UK and the legitimacy of degrees from universities here, the University of Bath in particular.
"Your bid to achieve a pass mark by offering what was a bribe to your professor was ill conceived to the point of being a spectacular mistake and one which was doomed to fail from the start."
Blake James, defending, said Li came from an "affluent family" in China, where his father is a respected government official and businessman.
He said his client was used to carrying large amounts of cash and had the air pistol, used for shooting practice, was in his possession as he did not want to leave it in the car.
Mr James added Li was not a "sham student" and had come to the UK in 2006 for a computer science degree at the University of Bath, which he passed.
"When he learned of the result of the dissertation it was a bitter blow to him," Mr James said.
He said that his client was concerned he would not be able to move from his expiring student visa to a Tier 1 visa without passing his course. His current visa has now expired.