Taunton £21m NIDR road project faces fresh delay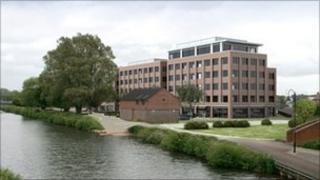 The building of a road through Taunton is on hold until the government assesses its economic value, prompting fears the project could be shelved.
In 2010, the Department for Transport agreed to pay £15m towards the £21 Northern Inner Distributor Road (NIDR) project.
It has since asked for extra information before handing over the money.
Taunton MP Jeremy Browne said he wanted to avoid further delays.
'More delays'
Liberal Democrat Mr Browne said: "My belief is that the government will eventually fund the road and it will eventually be built because it is so obviously an important bit of infrastructure for Taunton.
"My fear is that there are more delays, more studies about traffic flow, about impact on Taunton more widely and it pushes it further and further into the future. That's what I want it to avoid."
The government wants extra information to demonstrate the project will deliver economic growth and is cost effective.
Somerset County Council has said the scheme will create 3,600 new jobs and see 900 new homes built.
The NIDR will link Staplegrove Road in the west of the town to Priory Avenue in the east, also giving access to redevelopment sites in Firepool.
The scheme includes approximately one mile (1.6km) of new carriageway together with the realignment of a further 150 metres of carriageway.
The £21m project will also be funded with £4m from developers and the remainder from Somerset County Council.
So far £7m has been spent on preparations such as the compulsory purchase of land.
Leader of Taunton Deane Borough Council, Conservative John Williams, said: "Of course I am concerned to think that it might not come or it might be delayed - whichever would be difficult."
Mr Browne has said he expected an announcement would be made after local council elections in May.