Brewhouse Theatre auditors 'warned' about danger of cuts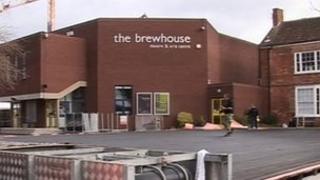 Auditors warned five years ago that Taunton's Brewhouse Theatre could close if there was a significant cut in public funding, the BBC has learned.
Accounts from as early as 2007/08 stated "growing concern" that any cuts could lead to "significant doubt about the charity's ability to continue".
The theatre went into administration in February. Art funding cuts were blamed.
The theatre's former artistic director, Robert Miles, has not returned the BBC's calls for comment.
'Warnings there'
"The current business model of the Brewhouse clearly did fail.
"Probably the warnings were there," said Eddie Gaines, an independent councillor at Taunton Deane Borough Council.
"I think in any organisation that is reliant on grant funding, they are always going to be at the vagaries of whatever the priorities of those funders are."
Mr Gaines is involved in setting up a group which wants to reopen the theatre using more volunteers.
Actor Tom Owen, who was a theatre trustee for three years, said it was a "ridiculous idea" to staff a professional theatre with volunteers.
'Best intentions'
Taunton Deane Borough Council owns the land the theatre sits on and also provides an annual grant of £152,000.
The hung council, which has a Conservative administration, hopes to buy the 61-year lease and transfer the theatre's running to a community group.
If the lease is acquired, the theatre would be wholly owned by the council. An initial offer to buy the bankrupt site was rejected earlier this week.
Administrator BDO put a deadline in place for all bids to be received by Friday.