Future of Birnbeck Pier in Weston discussed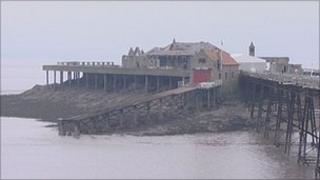 A derelict Victorian pier has been visited by Culture Minister Ed Vaizey after he was invited by those hoping to save it.
Mr Vaizey met with John Penrose MP, English Heritage and CNM Estates at Birnbeck Pier, in Weston-super-Mare, to discuss its future.
Mr Penrose said: "It's an important Grade II-listed building which is at risk of falling down."
Urban Splash bought the pier in 2006 but is selling it to CNM Estates.
The pier, which was built in 1867, is included on English Heritage's Buildings At Risk register.
'Urgency and energy'
Conservative Mr Penrose said: "CNM raised everyone's hopes when they got involved with Birnbeck Pier 18 months ago.
"Since then things have gone quiet and I wanted to inject some urgency and energy into finding a solution."
Soon after the pier was closed to the public, some people from the town formed The Friends of the Old Pier Society with the aim of saving the structure.
Charles McCann, from the society, said: "Any publicity is good publicity.
"If he can do something, then wonderful. However, money has got to come from somewhere, no matter what he does.
"Maybe he can apply a little pressure for local government to do something but in today's financial climate I can't see what can be done.
"We would like to see it restored but we are also very pragmatic about this. We appreciate there is a groundswell to retain it as it was in its Victorian heyday."
Mike Davies of the National Piers Society for the South West said: "No matter whether it's public money or private money, it's the costings.
"A survey from 1997-98 said it would cost £6.25m to renovate it but now you'd have to add on an extra costings due to further deterioration and inflation, so it could be as much as £25m."