Somerset ancient churches to be excavated and surveyed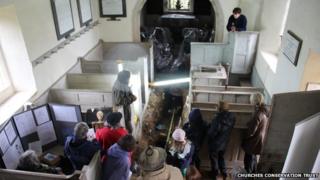 Conservationists are undertaking a 10-year project to excavate and survey 18 of the oldest churches in Somerset.
Work at church number one - St Andrew's in Holcombe - has recently ended with 18th Century skeletons, artefacts and medieval pottery being discovered.
A drone plane was also used to carry out a laser survey of a 6.2 sq mile (10 sq km) area surrounding the church.
The Churches Conservation Trust (CCT) wants to grow its knowledge of Somerset church history over a 900-year period.
Dr Neil Rushton, conservation project manager for the trust, said he believed the work would discover a lot more about Somerset church history and what was going on around them.
He said: "We're not just going into the 18 churches and looking at the architecture and the history of those churches without the context of what is going on around them.
"We are carrying out these landscape surveys for very good reasons.
"If we can do that for all 18 churches we will have a lot of coverage of the county - about 50% of the entire county will be covered by these surveys."
The CCT, which exists to protect "at risk" historic churches, wants to spend a decade discovering how big a role churches played in the county's history.
Starting in Holcombe, the trust joined with Wessex Archaeology and members of TV's Time Team to undertake excavations and survey work.
Two adult skeletons and one child skeleton, all dating to the 18th Century, were found buried beneath the church's central aisle.
Other artefacts, including pottery and an entrance to a hitherto unknown crypt were also found in the church, which dates back to 1100.