Southwest One drops legal action against county council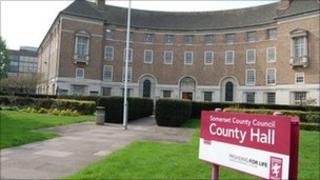 Outsourcing partnership, Southwest One, has dropped its £25m legal claim against Somerset County Council over a contract dispute.
Back office tasks are carried out by Southwest One for Somerset county and Taunton Deane borough councils and Avon and Somerset Police.
A total of £2m has been spent renegotiating the contract and in legal costs in addition to the settlement.
Southwest One has confirmed it has resolved the dispute with the council.
The contract for Southwest One was signed with cross-party agreement in 2007, with the aim of saving the then Liberal Democrat-led authority about £180m over 10 years.
But last February, after the council had become Conservative-led, its then leader Ken Maddock said the partnership was failing to deliver on the promised savings, which then sparked the legal challenge.
'Commercially sensitive sum'
Council leader, John Osman has confirmed the settlement sum is "lower than a fifth" of £25m.
Conservative Mr Osman added: "Southwest One issued a claim in excess of £25m plus associated legal costs - there could have been a bill of £40m if we were unlucky at court.
"Unfortunately I am bound by a confidentially agreement but Southwest One has insisted that sum is commercially sensitive."
The county council has taken back some work from Southwest One carried out, but the partnership will continue to provide software systems and finance services.
About 250-300 county council staff remain seconded at Southwest One.
Opposition leader, Liberal Democrat Sam Crabb, said: "There were problems with the contract, one of things being inflexibility but with the renegotiation that has happened.
"There are still many seconded staff still working on a good number of services."
"We will still be working with them [Southwest One] really well, I am sure."
A spokesman for Southwest One said: "Southwest One and Somerset County Council can confirm the action concerning Strategic Procurement Services has been successfully resolved.
"Both parties will now focus on continuing to build their long term partnership as Southwest One evolves and delivers services to Somerset County Council and the other joint venture partners."