Musgrove Park Hospital and RUH decide on regional pay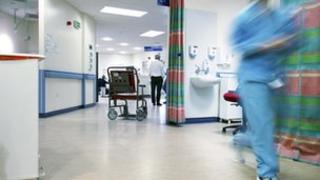 Bosses at hospitals in Bath and Taunton will decide later whether to adopt controversial regional pay rates.
Regional pay is based on the premise that living costs are cheaper in the South West so pay and conditions should be realigned to reflect this.
But unions argue it would leave staff working longer hours for less pay and leave, and cause staff shortages.
The board meetings will be held at Bath's Royal United Hospital and Taunton's Musgrove Park Hospital later.
Earlier this month, Yeovil District Hospital decided against the idea, thus keeping its staff on national pay terms.
A South West pay consortium was created to explore the idea of regional pay and a total of 20 NHS trusts signed up, although one, the Royal Bournemouth, pulled out at the start of the process.
Each trust paid £10,000 to consultants to investigate the issue and publish recommendations.
At the beginning of March the report recommended hospitals continue with national pay.
But board members from each trust have been meeting over the past month to decide whether to adopt or reject these recommendations.
Since the report was published, the consortium was disbanded.
Apart from Yeovil, the Royal Bournemouth and Christchurch Hospitals NHS Foundation Trust, Northern Devon Healthcare NHS Trust, Dorset County Hospital NHS Foundation Trust have all pulled out of the consortium plans.
The remainder are due to decide their pay scales for staff over the coming weeks.