Hinkley Point C: Decision widens chasm in local opinion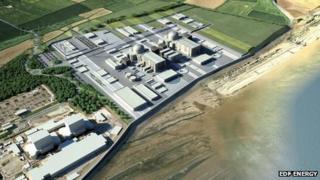 The decision to grant planning consent for a new £14bn nuclear power plant in Somerset has provoked strong local reactions from those for and against.
Energy Secretary Ed Davey has approved the construction of Hinkley Point C by French energy company EDF.
Somerset County Council's deputy leader welcomed the decision saying it will "unlock tremendous opportunities, including thousands of new jobs".
But members of Stop Hinkley campaign called it "a political scandal".
'Toxic white elephant'
"EDF don't know what they will do with the radioactive waste Hinkley C would produce, they don't have the investment they need now that Centrica have pulled out, and they have threatened to walk away unless the government underwrite their costs and fix the nuclear electricity price artificially high for consumers," said Theo Simon of the Stop Hinkley campaign.
"I don't think anyone in West Somerset believed that the public consultation last year was anything more than an elaborate, undemocratic, sham and that in itself is a political scandal.
"We need clean, green, 21st-century solutions to 21st-century problems, not a toxic white elephant only kept alive by government bailouts and inflated electricity bills," said Mr Simon.
But Conservative MP Ian Liddell-Grainger, who represents Bridgwater, called the announcement "a very good day for Britain and a phenomenally good day in Bridgwater and West Somerset."
'Burden of hosting'
Conservative David Hall, deputy leader at Somerset County Council, echoed the MP's sentiments calling it "an exciting time" and a "huge opportunity".
"It is the chance of a lifetime and could regenerate a huge area and create jobs and opportunities for our young people for years to come," said Mr Hall.
He said Hinkley Point C will provide a "supply chain investment and a large number of apprenticeships for our young people".
In West Somerset, which will host the facility, the leader of the district council, Conservative Tim Taylor said: "We already have a series of programmes in place providing all sorts of opportunities for local businesses to benefit from being in the supply chain and local people to be trained to become part of a skilled workforce."
But in Sedgemoor, which is home to the communities surrounding Hinkley, there was a reminder for the government to ensure "fair, reasonable, and proportionate benefits in recognition of the burden of hosting a power station which will deliver great benefits to the nation but whose significant impact is felt locally."