Somerset Labour group pledge to improve bus services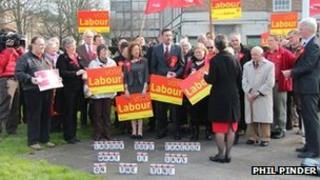 Somerset's Labour group has said that bus service improvements will be a priority if they win the May elections.
The party's manifesto, released ahead of the county council election, highlights the issue as a chance to put the party's "values into practice".
Other areas of focus in the group's campaign are vulnerable people, small businesses, the environment and to "open up decision making".
The Conservative-run county council elections will take place on 2 May.
'Protect services'
Councillor Andrew Govier, leader of the Labour group which will field candidates in all 55 county seats, said the party was "alive and well" in Somerset.
"I'm proud of our manifesto for Somerset which sets out a positive alternative message of how a Labour-run county council would put our values and priorities into action for the people of Somerset," he said.
"We would protect services for the most vulnerable, create a sustainable environment, promote economic growth for Somerset workers and businesses, invest in our children's education and protect the vital culture and heritage of our historic county."
The Labour Party's manifesto for Somerset lays out its vision for equality, opportunity and sustainability.
In it, the group says that private companies "will not be allowed to cherry-pick the most profitable contracts, or provide third-rate services".
The group also claims that the decision-making process would be opened up, with affected people being consulted and involved in the process and given explanations about final decisions that are made.
This forms part of the manifesto plan, which talks of a quality of life depending on such things as safety and security, employment, good schools, care and personal heritage.
Last month, Somerset County Council agreed its budget for 2013-14, which included £16m in cuts and a freeze on council tax for the fourth year running.