Boy struck by ambulance on 999 call in Bath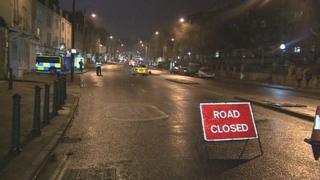 A boy is in a stable condition in hospital after being hit by an ambulance responding to a 999 call.
The child, thought to be about 10 years-old, suffered "significant" head injuries in the accident on London Road, Bath, at about 16:00 GMT, South Western Ambulance Service said.
The ambulance involved was given police permission to leave the scene to take the boy to the Royal United Hospital.
He has since been transferred to Bristol's Frenchay Hospital.
'Fully investigated'
The accident happened at the junction of London Road and Snow Hill near the River Avon, and the road was closed in both directions for police to investigate what happened.
A spokeswoman for South Western Ambulance Service said: "Due to the serious condition of the patient, police gave permission for the ambulance to leave the scene to take him to hospital."
She added: "Clearly our primary concern is for the patient and his family - senior executives from South Western Ambulance Service have travelled to Bath and will offer to meet with the family."
"We are also ensuring the crew involved are fully supported," she said.
"We are also working closely with the police to ensure the circumstances surrounding this serious incident are fully investigated."
The spokeswoman added that the child had been transferred to Frenchay Hospital as he was suffering from head trauma and the hospital has a specialist major trauma unit.