Bath's recycling centres only open to local residents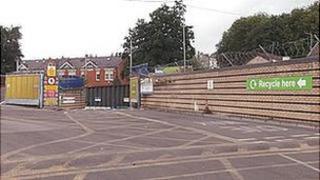 Recycling centres in Bath and North East Somerset are to ask visitors to prove they live in the area before using the facilities.
The council said accepting waste for free from people outside the area was costing the authority £60,000 a year.
From next month, residents will have to apply for an electronic permit to use the centres.
It plans to use number plate recognition on vehicles arriving at sites, from 2 April.
Councillor David Dixon said: "We just can't afford anymore to subsidise anyone's waste coming in."
There are three recycling centres located in Bath, Keynsham and Radstock accepting domestic waste that is too big to be collected from the kerbside.
Despite signs warning the facilities are for residents only, Mr Dixon said up to 10% of waste being dumped was from outside the district.