Grant approved to save Taunton's Brewhouse Theatre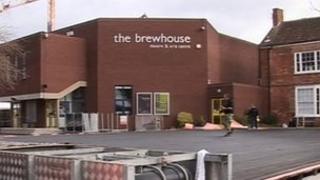 Councillors in Taunton have approved a grant of £152,000 a year to help secure the future of the town's theatre.
Brewhouse Theatre went into administration after the board said its financial position was "untenable".
An emergency payment of £35,000 "to help protect the property" also has support but has yet to be "rubber stamped", a council spokeswoman said.
Robert Miles, a theatre spokesman, said funding needed to be "at a level that will sustain arts organisations."
Taunton Deane Borough Council has been giving the theatre an annual grant of £152,000 and at a full meeting on Tuesday agreed to continue the funding.
According to council leader John Williams, the additional £35,000 payment is not just to "keep the place open" but to help the theatre put a business plan in place.
"If you can go away and come up with a credible business plan as to how you can make your income fit your expenditure, then I would have been happy to go to members and talk to members about it," he said.
"I couldn't go to members and ask them to allocate 'X' hundred thousand pounds without the knowledge that that was going to deliver a sustainable and viable theatre for the future."
'Blue in face'
Robert Miles, the former chief executive of the Brewhouse, said the authority had to decide if "investing in culture is worth it".
"They can tell us until they are blue in the face that we should be making money but with 352 seats - you can't - it's as simple as that," he said.
"So either you want to support having a theatre in the town or you don't.
"And if it's not then cut it, and if it is then make sure it's at a level that will sustain arts organisations."