Plans for Tropicana in Weston-super-Mare given green light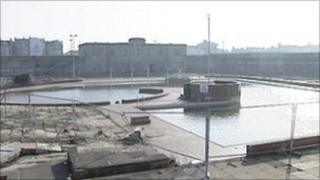 New plans for the Tropicana site in Weston-super-Mare have been unanimously voted through.
North Somerset Council had been given approval to demolish the former open air swimming pool, but that decision is currently under review.
Trop (WsM), which submitted the plans, has asked the High Court for a judicial review of the decision.
The council said, even if planning permission is granted, Trop would still need to ask it for landowner's consent.
The Tropicana, on the seafront, has been closed for 12 years and is derelict.
Trop (WsM), a group of local businesses, wants to redevelop the site and reinstate a pool.
Planning officers previously recommended approval of its scheme, subject to a number of conditions.