Old Minehead hospital to be sold by NHS Somerset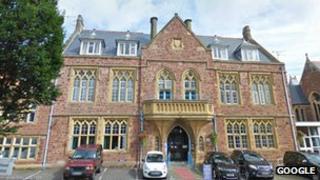 A disused community hospital in Minehead is to be sold off by NHS Somerset.
The Grade II listed building closed in 2011 and was replaced by a new community hospital in Seaward Way.
Although the property was registered as a community asset last year, NHS Somerset has applied to have this status revoked.
When a property is registered as a community asset it cannot be put on the open market for a six-month period.
'Focal point'
NHS Somerset has asked West Somerset District Council to review the restriction. The building was added to the council's community asset register in December.
But the six-month period is only triggered when the owners announce their intention to sell.
This in turn means the deadline will be August for interested community groups to come forward.
A spokesman for NHS Somerset said: "Managers with NHS Somerset are still proposing to meet with members of the community with a view to offering any co-operation with a business case which they might be preparing in support of their goal of acquiring the old building.
"It is customary that when an NHS property become surplus to requirements the service is obliged to market and sell the property applying normal commercial considerations and with the aim of securing a maximum price. "
The Minehead Development Trust has been in talks with NHS Somerset with the hope of acquiring the building.
Chair of the trust, Jenny Lennon-Wood, said: "We're not surprised that they are planning to market the site because it is the process they have been discussing with us.
"We will work hard now to get our bid together within the six-month period because we are very keen to acquire the site for the community and develop it into a community hub that will be a key focal point for the regeneration of the town."
The "community hub" would house a library, cafe, museum and other services.
NHS Somerset has confirmed if the site cannot be marketed by the end of March, it will be managed by NHS Property Services Ltd.
The BBC understands NHS Somerset hopes to raise at least £1m for the property.