Wedmore solar plant plans submitted to local council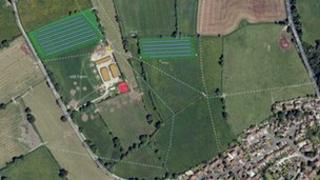 A full planning application to build a £1.1m "community-owned" solar power plant in Somerset has been submitted.
Wedmore Community Power Company wants to develop two micro-generation sites on 1.7-hectare and 0.75-hectare of farmland to the north of the village.
The company hopes the 4,000 solar photovoltaic panels will generate enough "clean electricity" - about 1MW - to support more than 300 local homes.
People have until 13 March to submit comments to Sedgemoor District Council.
The site is located in two paddocks at Mill Farm between Lascot Hill and Quab Lane.
Wedmore Green Group is working with Rooftop Consulting Ltd on plans to set up the Wedmore Community Power Company as a cooperative, meaning local people can buy a stake.