Plans for Tropicana in Weston recommended for approval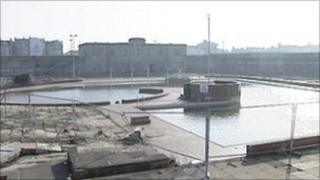 New plans for the Tropicana site in Weston-super-Mare have been recommended for approval by planning officers.
North Somerset Council had been given approval to demolish the former open air swimming pool, but that decision is currently under review.
Trop (WsM), which submitted the plans, has asked the High Court for a judicial review of the decision.
The council said, even if planning permission is granted, Trop would still need to ask it for landowner's consent.
The Tropicana, on the seafront, has been closed for 12 years and is derelict.
Trop (WsM), a group of local businesses, wants to redevelop the site and reinstate a pool.
Planning officers have recommended approval of its scheme, which will be considered on 21 February, subject to conditions.
'Two hats'
Councillor Tony Lake, executive member for asset management on the Conservative-led council, said: "Although the council owns the site, it has not put in this planning application.
"Anybody can put in a planning application for someone else's land but, even if they get planning permission, they can't go ahead with it unless they have the landowner's consent."
He said: "The council has two hats here - one as the planning authority and one as the landowner.
"The planning application has to be considered purely on planning grounds. The financing and deliverability of a scheme is not a consideration when deciding whether to grant planning permission.
"However, these are matters we do take into account when considering landowner's consent.
"We have always said we would welcome a viable scheme on this site, but so far Trop (WsM) Ltd have not demonstrated that their proposed scheme is either viable or deliverable."
Councillor Mike Bell, leader of the council's Liberal Democrats group, welcomed the plans.
He said: "Given that Trop (WsM) Ltd have pledged to knock down the Tropicana and return the site to beach for nothing if they are unable to deliver their redevelopment scheme, it is difficult to see why the council leadership would not sit down and negotiate a deal."