Chipped plate found in Somerset cottage sells for £567,000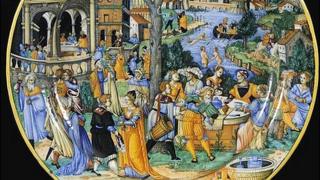 A plate found hanging on a makeshift wire frame in a Somerset cottage has fetched over £500,000 at auction.
The 16.5in (42cm) chipped Italian maiolica plate was discovered hidden behind a door by Dorset auctioneer Richard Bromell.
He said: "It had been on the wall for a number of years and you couldn't really see it but it was hugely exciting - an Only Fools and Horses moment."
The 16th Century plate was sold for £567,000 by auctioneers Charterthouse.
The Italian pottery plate depicts the story of King Herod and the beheading of Saint John the Baptist.
Decorated after a print by German printmaker, Sebald Beham, it was identified by staff at the Ashmolean Museum in Oxford.
'Important discovery'
"At first, I expected the pottery plate to be a 19th century copy," said Mr Bromell.
"But after researching it, it was confirmed by Professor Timothy Wilson at the Ashmolean as being made in Urbino, Italy around 1540 and an important discovery."
Despite being suspended on a cottage wall for many years on a makeshift wire frame, the 500 year-old plate survived with just a minor chip.
"It's a huge sum of money for a piece of European pottery," said Mr Bromell.
"I'm not sure what the client's reaction is going to be yet, I'm waiting to tell them, but for me it has been the discovery of a lifetime."