Flat Holm island could become tourist destination if sold by council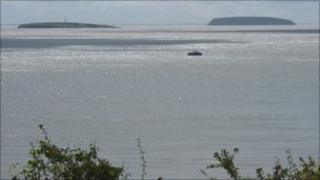 An island in the Bristol Channel which could be sold by Cardiff Council should be developed for leisure, according to the Somerset Tourism Association.
The association said Flat Holm island, which is owned by the council, could be combined as a tourism package with neighbouring island Steep Holm.
Flat Holm is Wales' most southerly point and is next to the privately-owned English island of Steep Holm.
The council said it would discuss the issue on 28 February.
Cardiff Council needs to save £110m and the possible sale of the island is one of many proposals which will be decided at the full council meeting later this month.
Chair of Somerset Tourism Association Bob Smart said: "The possibility that Flat Holm island might change hands raises the interesting question of whether Flat Holm and Steep Holm could be combined into an exciting tourism package.
'Unexploited resource'
"Everyone loves exploring offshore islands and England doesn't have very many of them so this is a strength we ought to be playing to."
Mr Smart said he had not looked at the economics of combining the two islands but added: "There is lots of interest in increasing the leisure traffic in the Bristol Channel. At the moment people only visit Flat Holm in the summer.
"It's an unexploited resource."
A spokesman for Cardiff Council said: "The council is not considering selling the island at present.
"If the council meeting on 28th February confirms a large reduction in budget to support Flat Holm then it is likely that alternative options for the management and operation of the island will be explored.
"In these circumstances expressions of interest are likely to be sought from interested bodies and organisations and any received will be fully considered before a decision on the future of the island would be made."
Flat Holm island covers about 86 acres (35 ha) and is known for its wildlife. It has been designated a Site of Special Scientific Interest and a Special Protection Area.