Breeding toads force closure of Bath road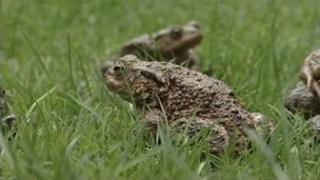 A road in Bath has been closed for six weeks to help amorous toads to return to their breeding ground in safety.
The Charlcombe Toad Rescue Group said it had helped about 21,000 toads, newts and frogs with their hazardous journeys over the past 11 years.
Toad helper Helen Hobbs said: "Every evening during the migration period we come along with torches and buckets and help them safely across the road."
Charlcombe Lane will be closed so toads can reach a lake at Charlcombe Farm.
Ms Hobbs added: "We try to put them as close as possible to where they are crossing so as not to spoil their migration route."
The toad group is marking its 15th year of helping amphibians. It normally records about 3,000 migrating toads every year.
The road closure has been put in place by Bath and North East Somerset Council.