Snowdrop Valley on Exmoor opens to public after delay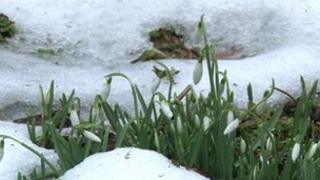 Snowdrop Valley on Exmoor has opened to the public, one week later than usual.
The opening was delayed after more than 200 trees were brought down along the valley road in the recent heavy snow and rain, and the route became dangerous.
Rangers said it had been a huge job clearing them but it was now safe for people to visit.
The park normally attracts 5,000 visitors a week when the flowers are bloom in February.
Linda Atkins, vice chairman of Cutcombe Parish Council, said they decided to delay the opening for safety reasons.
"So many trees had come down and it was particularly bad underfoot as well," she said.
"We felt it would be irresponsible of us as a parish council to encourage people to go down there."
Ranger Richard Eales said 255 trees had been cleared.
"We've had our field services team out on the 5km of right of way, the circular route, clearing trees to get it all open," he said.
"We've had a slight delay now, but we are not that far behind schedule given the size of the job in hand.
"We are flat out because we had the floods before Christmas so we are still trying to catch up with that."
Snowdrop Valley is a privately owned valley in Wheddon Cross near Minehead.