Somerset County Council: Union fear over job cuts plans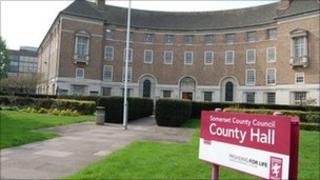 Plans to make £24m in savings and 190 job cuts at Somerset County Council will push staff to "breaking point", trade union Unison has said.
The Conservative-run council is set to debate the draft budget on 6 February.
Unison organiser, Oliver Foster-Burnell said: "Front line services which have already been cut are still shrinking or disappearing altogether."
Council leader John Osman has said the council was trying to make cuts where it's going to cause "least pain".
Somerset County Council is set to lose about 5% of government funding for 2013-14.
Meanwhile, the Somerset Local Nature Partnership has urged the council to reconsider slashing its funding, which it says translates to a reduction in funding from £211,000 to £27,000.
'Crucial services'
The partnership has asked for the council to postpone the decision so it can seek people's views.
The council's overall settlement for 2013-14 will be £336m, compared to £360m for the previous year.
"Over the last few years money that central government has been giving to the council to run its services has been cut back," said Mr Foster-Burnell.
"It is woefully inadequate. Sadly, the council has been compliant and played their role in the reduction of crucial services, imposing a council tax freeze for a fourth year instead trying to maintain the once 'excellent' rated services it provided."
But council leader John Osman has said the council was working hard to mitigate the cuts.
Mr Osman added that although there would be fewer services, the council had a £38m capital budget for 2013-14 and an extra £4.8m would be invested into helping vulnerable adults.
The council also plans to pull £6.4m out of its reserves to help balance the budget.
'Constant changes'
Unison has also highlighted a growing demand for young people and children's services and has said cuts to these areas area unsustainable when the workload was going up.
Mr Foster-Burnell said: "The constant changes going on in the county council, changing the way services are delivered and the work that people undertake, with threats of redundancy looming over staff, is pushing staff to the breaking point."
In 2009, staff numbers were about 6,000. They are now about 4,500.
Of the 1,500 jobs that have gone, 500 have been out-sourced to private contractors delivering council services.
If the planned jobs cuts of 190 go ahead, this will cut the staff force to about 4,300.