Somerset and Bath maternity units share £1.2m grant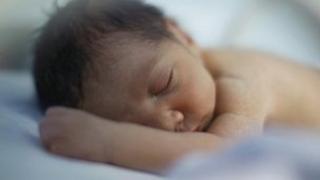 Maternity units in Taunton, Yeovil and Bath have received £1.2m in government grants to upgrade facilities.
The money is from a £25m fund being shared out across 100 hospitals by the Department of Health.
Some of the improvements planned include new delivery suites, better lighting and upgraded bathrooms.
Taunton's Musgrove Park Hospital will receive £600,000, Bath's Royal United Hospital (RUH) will get £400,000 and Yeovil District Hospital gets £200,000.
'Old-fashioned'
Ian Boswall, project director at Musgrove Park Hospital, said: "The existing maternity unit was built in the Second World War and it was really designed for care in the 1940s.
"It's quite old-fashioned and clinical because all the women that come in, the vast majority of them, are well and don't need to give birth in such a clinical environment which lacks quite a lot of basic facilities.
"We're trying to create a more relaxing environment and normality and simple things like access to en suite bathrooms."
The hospital has said the grant will help more than 3,200 women and their partners every year.
Health minister and Conservative MP Dr Dan Poulter said: "Historically maternity was a bit like the Cinderella of NHS services and we decided as a government that it was important to invest in good high quality maternity care."
The money has come from part of the overall NHS budget, Mr Poulter said.
In Yeovil, £200,000 will be used to update the delivery rooms in the labour suite.
Midwife Jacqui Tully said: "Although we have some nice big delivery rooms, we only have two bathrooms on the labour ward which means women have to walk out onto the main labour ward to use [them] while they're in labour.
"It's important for us to promote better pregnancy and dignity in our unit."
In Bath, the hospital will refurbish 10 delivery suites, including one which has a birthing pool.
Tessa Harding, general manager at the RUH, said: "We asked our mums and dads about what changes they would like to see - so we know these are the improvements that will make a big difference to local people."