Potholes rise on Somerset's roads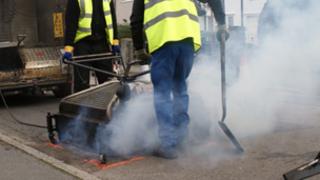 Nearly 3,500 potholes have been reported to Somerset County Council since December, showing a 40% increase compared to the same period last year.
The figures have been measured over a seven-week period during December and January.
Recent heavy rain has been cited as the main reason behind the increase.
Conservative cabinet member Harvey Siggs said: "You'll never win with potholes, a lot of the surfaces we did deal with have survived a lot better."
'Top-dressed'
The county council said it has repaired 2,649 potholes and has asked people to report them.
Mr Siggs said: "Obviously it's the same teams that are doing the gritting, so things have been struggling but the weather has got a milder and all our teams will be back up filling potholes.
"It's not what we really want to do because we spent a lot of time last summer making sure roads were top-dressed and in a better condition to try and keep off potholes."
The Asphalt Industry Alliance has conducted studies on pothole formations and has worked with local authorities on the issue.
Spokesman John Bullock said: "The best way of doing it is to take a larger area and actually do a proper re-surfacing over a length of the road because one thing we've discovered is - and this is talking to local authorities - is it's 20 times dearer to do what they're doing to repair potholes by doing it on a spot basis.
"A proper re-surfacing job will last about 15-20 years."
The council said it has re-laid roads when it can, but it is an expensive solution.