Glastonbury Holy Thorn film funds are secured after 10 years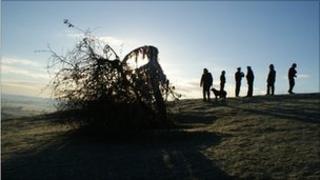 A UK film company has given financial backing to a film about the Glastonbury legend of the Holy Thorn and Joseph of Arimathea.
Glastonbury: Isle of Light was written by film producer Daniel McNicoll and has won backing from film finance company, Motion Picture Capital.
He said: "Getting a good team together is crucial with regards to getting funding."
Pre-production work, such as finding filming locations, can now start.
'Big budget'
"We're working with people like Dark Knight's stunt co-ordinator and Titanic's sound designer, Star Wars' casting director and a lot of the guys who worked on the Lord of the Rings trilogy and the Hobbit as well," said Mr McNicoll.
"We're excited about the team that we have."
The film has been in development for 10 years and will be made by Galatia Films.
Mr McNicoll has confirmed this will be a "big budget film" that will be released worldwide.
"We're looking at filming in locations in Britain of course.
"We couldn't have the film without those locations and we're looking at possibly doing some filming in New Zealand as well."
He added that it would be "very likely" there would be some filming in Glastonbury.
John Turner, of tourism group Visit Somerset, has been supporting the project by raising awareness of it through a blog.
Tree replaced
Speaking of the funding, Mr Turner said: "This bears a huge amount of significance for the film because Motion Picture Capital are the guys who are also behind Dreamworks who were the team behind War Horse, so this is the most exciting moment in the film's development so far."
The Glastonbury legend relates to Joseph of Arimathea who planted his staff into the ground at Wearyall Hill in Glastonbury, which sprouted into the Holy Thorn.
The Holy Thorn tree on Wearyall Hill, which had its branches cut off by vandals in 2010, is said to have been grown from a cutting from the original tree.
The vandalised tree was planted in 1951 to celebrate the Festival of Britain and has since been replaced.
There are also several Holy Thorn trees located around Glastonbury.