Somerset County Council: Authority 'must make £24m savings'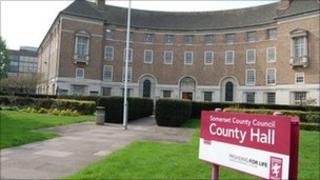 Savings of £24m that might involve 190 job cuts and taking £6.4m out of reserves are needed to balance the books, Somerset County Council says.
The authority's budget could also see £1.4m cuts to children's centres and cutting £350,000 for school transport for children with special needs.
Conservative council leader, John Osman said: "We've lost 5% of our funding. We've got to make some savings."
The Liberal Democrats opposition has said the proposals are a "disaster".
'Thousand cuts'
The council's overall settlement for 2013-14 will be £336m, compared to £360m for the previous year.
This figure does not take into account grants for new responsibilities handed to the council from central government.
Sam Crabb, leader of the Liberal Democrats at the council said: "What they're doing is they're killing Somerset with a thousand cuts - some of them small and some are very large and it's a continuation of what they've been doing over the four years since they've been in administration."
The county council has to make about £50m in savings over the next two financial years (2013-14 and 2014-15).
In terms of the job cuts, the council has said these will be achieved by not filling in vacant posts and voluntary redundancy rather than through compulsory cuts.
Flood repairs
Council tax will also be frozen for the fourth consecutive year, since the Conservatives came to office at county hall.
"There are fewer services, but there's huge investment in other areas - £4.8m for vulnerable adults and a £38m capital budget is all good news for Somerset," added Mr Osman.
The capital budget will be used for building projects such as repairing roads and new school buildings.
This includes a two-year grant of £5m, for repairing flood-damaged roads.
Proposals in the draft budget will be debated a cabinet meeting on 6 February.
If the budget is recommended for approval it will be formally passed at a full council meeting on 20 February.