Joshua Gafney drug death: No charges for nurses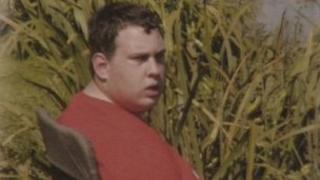 The family of a young man who died after an overdose of an anti-psychosis drug have criticised a decision not to bring charges against two nurses.
Joshua Gafney, from Somerset, died last year after taking 21 times his prescribed dose of clozapine.
His family will meet the Crown Prosecution Service (CPS) later to ask why two nurses, who they say gave him the drug, will not be charged.
The nurses have been suspended while an internal investigation takes place.
A CPS spokesman said it had received "some material" from the police in relation to the matter and provided them with early advice on their investigation.
"We did not, however, receive a full file of evidence in this case," he said.
"The decision to take no further action was made by the police."
'Broken-hearted'
Avon and Somerset Police said: "We received extensive advice from the Crown Prosecution Service on this matter and we were guided to the fact that we would not succeed in a prosecution in this case."
Mr Gafney, who had been receiving treatment for psychosis, was 21 when he died.
His medication was usually given to him by his mother, but for a few days in February last year he needed more so nurses went to his house.
On the day he died he took 84ml of clozapine instead of his prescribed dose of 4ml.
Tina Marren, his mother, said she asked one of the nurses why her son was being given his medication in a glass.
"I said 'that looks too much, why is he having it?', and she said 'no, that's fine I will put a bit of water with it'," she said.
Ms Marren said she was "broken-hearted and devastated" by his death.
Somerset Partnership NHS Foundation Trust said: "It is the Trust's intention to bring the actions of the nurses involved in this incident to the attention their professional body, the Nursing and Midwifery Council."