M5 crash survivor 'glad' manslaughter charges dropped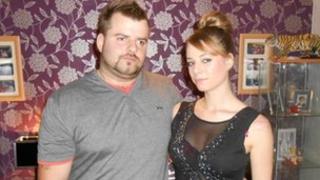 A survivor of a crash on the M5 in Somerset which killed her father and sister said she was "glad" manslaughter charges were dropped over the crash.
Geoffrey Counsell, 50, organised a nearby fireworks display on 4 November 2011, the night of the collision which left seven people dead.
Manslaughter charges against him were dropped last week.
Emma Barton, 20, from Windsor, in Berkshire, said she did not blame him and was moving on with her life.
Her now husband Chris Barton, 25, who took her family name to ensure it lived on, was driving the car at the time of the crash.
Mrs Barton was a passenger along with her father Michael and sister Maggie, who both died.
'Wanted to scream'
Speaking to BBC News, Mrs Barton said she holds no grudges over the incident.
"I was glad [when the charges were dropped]. It was not all one person's fault," she said.
The fireworks display was taking place at Taunton Rugby Club, which is next to the motorway.
Mr Counsell will now face one charge, under health and safety laws, of failing to ensure the safety of others.
Mr Barton said he has trouble remembering much about the incident.
"It was just diabolical weather," he said.
"It was like someone pulled some tights over your eyes because you couldn't see a thing.
"I remember being hit from behind and I'm guessing that was the lorry that we ended up underneath."
Once in hospital he was told Mrs Barton was in theatre and that her father and sister had not survived.
"I really wanted to scream, but I was old enough not to, I had to keep it calm," he said.
"I just kept it all inside until the day when we were all in a stable state and then [I] broke out and cried in Emma's arms."
Mrs Barton was placed in an induced coma after suffering multiple injuries, including a fractured pelvis.
She said it took her about a week to realise what had happened.
"I was angry that everybody else knew about my family being dead before I did.
"It didn't seem real, it felt like someone was playing a bad joke on me until three or four months later.
"[But] life has to go on. My dad told me that, he was in a wheelchair, had health problems, always in and out of hospital but he was always still smiling."
The crash has had a lasting impact on the couple.
Mr Barton added: "I've never stopped feeling guilty. When it first happened I went into a really bad state of depression.
"[But] it was just the wrong place at the wrong time. We can't turn back the hands of time but we wish we could."