Somerset snow: Drivers abandon cars in West Somerset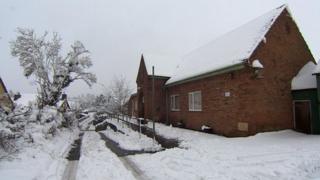 Hazardous driving conditions on the A39 forced about 30 motorists to abandon their cars in West Somerset overnight.
They stayed at Nether Stowey village hall and in pub accommodation but have now started retrieving their cars.
Overnight snow also forced 99 schools and one college to close in Somerset and one school in Bath.
Areas which have been particularly affected include the Mendips and West Somerset. In the Blackdown Hills, 28cm (11in) of snow has been reported.
The drivers had got stuck between Bridgwater and Williton in the early hours of Wednesday.
'Community spirit'
Nether Stowey village hall secretary, Wendy Hobbs, said: "I think in the end there were about 30 people that were rescued, the Ancient Mariner [pub] next door apparently took in about 10 or 12 people - they actually have holiday accommodation so some lucky people were able to stay in a bed.
"The others were taken up to the village hall.
"Once it got to about seven o'clock, another committee member was able to take tea and coffee to them, but I understand the police brought microwaves for pies and all sorts."
Police force incident manager Adam Crockford said they became aware of the stranded people at about 01:00 GMT because of snow and fallen trees.
He said: "Officers from different districts in 4x4s were first on the scene to help.
"We asked the local fire station to open up and serve hot drinks and spoke with the council and identified a keyholder for a nearby village hall.
"It was a group effort by the emergency services and a bit of community spirit."
Cars were also abandoned during Tuesday night's rush hour on the A358 between Williton and Taunton and also on Bathwick Hill in Bath.
Heavy snowfall also caused problems in Shepton Mallet, Wellington, Farrington Gurney and Bath.
'Lorry jack-knifed'
Somerset County Council said 23 gritters had been treating the roads overnight.
Geoff Dight, from Somerset Highways, said: "Last night there were a few specific hills - [such as] Kilver Street [in Shepton Mallet] - which will always give problems.
"As soon as we got a lorry jack-knifed on it, it stopped us from coming through," added Mr Dight.
He also said teams would only focus on about 20% of the main roads and about 9% of well-used link roads, known as S2 roads.
"We do get criticised, but you have to remember we're quite a rural area, and it is similar to other places, like Devon and Dorset," added Mr Dight.
Parents wishing to check school closures can look on Somerset and Bath and North East Somerset websites.
Hatch Green Coaches are not running any bus services or school contracts.
Taunton Musgrove Hospital said appointments are going ahead as normal but patients unable to travel have been told new appointment details will be sent to them.
Most of the routes run by First Bus are operating as normal. The 379 between Bristol and Shepton Mallet is back in operation after being suspended earlier.
Stagecoach services have also seen delays and changes to routes.
Taunton's park and ride service is running normally.