Somerset Conservative warns of gay marriage resignations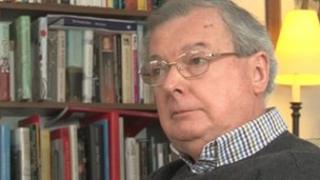 A senior Somerset Conservative who quit the party in protest over gay marriage has warned that more will follow suit.
Edmund Costelloe has been with the party for half a century but stood down over what he describes as an "attack" on marriage between a man and woman.
He said other chairman and officers within Somerset had been in touch with him and "paint the same picture".
A colleague disagreed, saying it was important the party "embrace contemporary values".
'Lost touch'
Last week Mr Costelloe resigned as chairman of Somerton and Frome Conservatives - a position held for almost three years.
He has been a member of the Conservative Party for 49 years.
Mr Costelloe said his party's leadership's "undebated and ill-thought out attack" on marriage was "a fundamentally 'un-Conservative' stance to take".
Now he claims that membership to the party was "starting to haemorrhage".
He said: "Almost all the people you talk to feel the same as I do - not necessarily to the point of resignation - but there is an enormous feeling of anger and frustration.
'Embrace contemporary values'
The government's Equal Marriage Bill is due to be published this month.
It is proposed that the Church of England and Church in Wales will be banned in law from offering same-sex marriages, while no other religious organisation will be compelled to carry out such ceremonies.
One of those now hoping to be the party's candidate for Somerton and Frome is entrepreneur and gay rights campaigner, Ivan Massow.
"I think it is really sad that Mr Costelloe has chosen to go in this way, but I have to disagree with his views," said Mr Massow.
"My personal take is that the party needs to be inclusive, and embrace contemporary values, and especially in a constituency like Somerton and Frome which you'd think would be naturally Conservative but leans towards a liberal candidate and clearly wants more progressive representation."
A Conservative party spokesman said: "Marriage is one of the most important institutions we have in this country.
"As Conservatives we believe marriage binds us together, brings long term commitment and stability, and makes society stronger."