Somerset postman dies in snow on Exmoor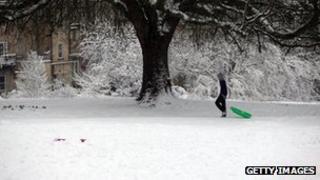 A Somerset postman died while carrying out his rounds in freezing conditions on Exmoor, Royal Mail has confirmed.
It is believed John Bircham had a heart attack after trying to free his van from a snow drift on Saturday.
Mr Bircham had worked for the Royal Mail out of the Dulverton delivery office for 25 years.
Ian Frankum, a Royal Mail manager, said Mr Bircham was a "valued member of staff" and would be "sorely missed by his colleagues".
"Our deepest sympathy goes to his family and friends at this sad time," he added.
More than 200 schools in Somerset and Bath were closed on Friday after snowfall caused widespread disruption.
The majority reopened following the weekend but four schools were forced to remain closed due to boiler failure or icy conditions.