Mendip Hills team gets conservation cash boost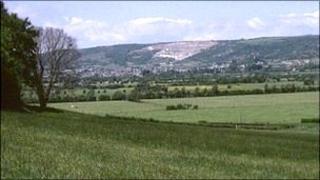 The team that looks after the landscape of the Mendip Hills has been given more than £200,000 to help with its conservation.
The Heritage Lottery Fund money will be spent on teaching people about the history and archaeology of the Black Down and Burrington Commons.
The area above Cheddar covers the highest point on the Mendips.
The Mendip Hills Area of Outstanding Natural Beauty (AONB) Partnership, said it was "delighted" to get the grant.
Councillor Dawn Hill, the organisation's chairman, said: "Black Down is one of the most fascinating sites in the Mendip Hills AONB," she said.
"With this funding we can bring the special stories of the site to life and encourage people to take an active role in caring for this special place."
Erosion and damage
The grant will employ a full-time project officer for three years, and pay for new volunteering and training opportunities.
It will also go towards the restoration and repair of badly eroded paths, as well as protecting the area's wildlife habitats and archaeology.
The AONB said in recent years an increase in visitor numbers had resulted in problems of erosion and damage to specific features and the site in general.
"It's the largest area of common land in the Mendip Hills," said Andy Mallender from the partnership.
He added: "Part of the site is a designated a Site of Special Scientific Interest (SSSI) because of the valuable wildlife habitats found there.
"Another large part of the site is designated a Scheduled Monument because of the wealth of archaeology on the site."
The Black Down has three Scheduled Monuments dating from the late Stone Age and Bronze Age through to World War II.