Peter Swords King nominated for Oscar and Bafta award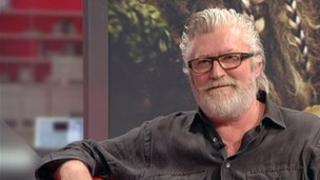 A make-up artist who worked on the new Hobbit movie has been nominated for an Oscar and a Bafta award.
Peter Swords King, whose career has spanned 36 years, already has an Oscar for his work on The Lord of the Rings.
"It was much harder this time because it was HD and 3D so a hair out of place and it can look terrible," he said.
Mr Swords King, who lives in Carlingcott, near Bath, has been nominated in the make-up and hair category for both awards.
'Long process'
Mr Swords King said the process to bring the characters to life in the movie, The Hobbit: The Unexpected Journey, began in 2010.
He said: "Peter Jackson has a vague idea how he wants them to look and then we go through a very long process to get to the end.
"For the 13 dwarfs I think we did close to 1,000 drawings of loads of different looks and images and slowly whittle it down to one that might work.
"We make the prosthetics, wigs, beards and then do a show-and-tell for each character in the film."
As a make-up artist, Mr Swords King has brought King Kong and the Marquis de Sade to life on screen.
He has also worked on films including Quills, Thunderbirds, Little Voice, The Importance of Being Earnest, An Ideal Husband and The Avengers.
"It's fantastic to be nominated for both (awards)," he said.
The Baftas will take place on 10 February, and the Oscars on 24 February.