Cheddar Sainsbury's superstore decision deferred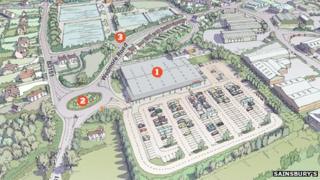 A decision to build a new superstore on the outskirts of the village of Cheddar, in Somerset has been deferred.
Sainsbury's wants to build on land at Steart Farm which a spokesman said would create 100 jobs.
Sedgemoor District Council said councillors wanted "more technical information" before they could make their minds up.
Tesco has also submitted an application for a store on the site of Cheddar Football Club's ground.
Its application will be heard at a later date despite an attempt from Tesco to have the two considered at the same time.
'Five stores already'
If Tesco gets the green light the club would move from its Bowden Park ground and the company would pay for new facilities for the football club at Labourham Drove.
Carole Wilkie, from the Keep Cheddar Special group, is campaigning against both supermarkets.
She said there was already a medium-sized Budgens' store and four mini supermarkets in the village.
"That's quite adequate for a village of 5,500 population," she said.
"The shed that's proposed by either store will be enormous - the largest in the village - and nestling at the bottom of an area of outstanding national beauty.
"It's not what tourists come to the village to see."
Sainsbury's said it was committed to working closely with the community and had been exploring possible ways in which a store at Steart Farm could encourage shoppers to visit the centre of Cheddar.
"Sainsbury's recognises that any new food store in Cheddar should complement, not compete with the unique shopping offer available in the village," a store spokesman said.
No date has been set for the matter to be reconsidered.