Cheltenham's Dr Corascendea Cathar makes 'dangerous' cancer claims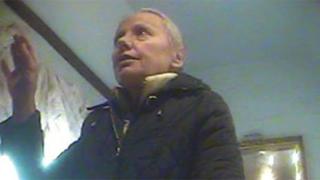 A spiritual healer who claims to be able to treat cancer using a special diet has been condemned by medical experts for giving "dangerous advice".
Dr Corascendea Cathar, 62, who has no medical qualifications, claims her "Dhaxem" healing can treat cancer and charges £280 a session.
Prof Chris Bunce from charity Leukaemia and Lymphoma Research, said what Dr Cathar was offering was "scary".
But Dr Cathar, from Cheltenham, insists her treatments can help patients.
Following the investigation by the BBC's Inside Out West TV programme Dr Cathar took the details of the treatments and price list off her website.
'High doses'
Its under cover team took former cancer patient Chris Geiger, from North Somerset, to secretly film an appointment with Dr Cathar.
For the purposes of the filming, Mr Geiger, who was treated for non-Hodgkin lymphoma when in his 20s, claimed to have had a relapse and be looking for treatment.
In a two-hour session, Dr Cathar gave Mr Geiger dietary advice and told him: "If you want to stop cancer, you have to get high doses of quality calcium."
She claimed to have added ten years onto the life of a patient with terminal cancer.
After the appointment, Dr Cathar also sent out a detailed diet for a £90 fee. The diet recommended cabbage juice "as it beats cancer" and a particular herbal mixture which Cancer Research UK says holds no benefits for cancer sufferers.
After the visit, Mr Geiger said: "It makes me feel really angry when I heard what she was saying today. I just so hope that people aren't taken for it and that she stops what she is doing immediately."
Prof Bunce, who is the research director for the charity Leukaemia and Lymphoma Research, and a Professor of Experimental Haematological Oncology at University of Birmingham's School of Biosciences, viewed the BBC's undercover footage,
He said of Dr Cathar's advice: "I think it's dangerous. You've got to remember the people she's talking to are scared and frightened.
'Pure lives'
"You know this kind of thing goes on but to actually see it happening is quite scary."
In a statement to the BBC, Dr Cathar said: "As a spiritual healer, I believe that cancer is connected to the soul and to the life content of a sufferer.
"A number of people I met as a healer remain my personal friends.
"That includes three people with cancer, in one case considered terminal, and they are still well and alive today. All three of these people live pure lives, and they do not know malice, or hate.
"This is at least as relevant, as their diets."
The BBC was unable to speak to any of the three people in question as Dr Cathar declined to pass their names on.
Since being approached by the BBC, Dr Cathar - whose real name is Dagmar Ebster-Grosz - has stopped offering her healing treatments through her internet site.
The full story can be seen on Inside Out West on BBC One on Monday at 19:30 GMT and afterwards on the iPlayer.