Bridgwater residents 'insulted' by Tesco over store plans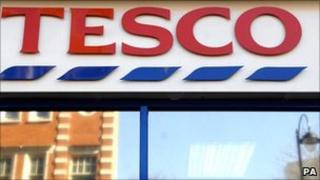 Up to 100 people have expressed anger and frustration over plans for a Tesco store, at a public meeting.
Tesco officials answered 27 pages of pre-submitted questions on proposals for a store in Bridgwater's Northgate.
Resident, Glen Burrows said: "We haven't come here to heckle, it's frustrating that we're being insulted yet again."
Tesco has claimed its store will regenerate the area but residents fear it will destroy town centre trade.
'Shops close'
The meeting, at the town hall on Wednesday, was organised by the district council.
Referring to Tesco's plan, Labour councillor, Julian Taylor, said: "Evidence is that smaller shops close down and you just destroy the town centre."
However, the firm Tesco said a third of staff for the store would be recruited from the long-term unemployed in the area and, as the only town centre supermarket, it would increase revenue to surrounding shops.
They also claimed it would bring economic resilience and reduce anti-social behaviour.
The format of the meeting meant further questions, beyond those pre-submitted, were not allowed.
"If there are so many questions that means there are a lot problems so we need more than one meeting," added Ms Burrows.
Questions in the document ranged from the future of Brewery Fields - which is set to be a play and recreational area - and the type of materials used to build the store.
The consultation period has been extended to 22 January, after Tesco had to resubmit its application when alterations were demanded on how the store would be accessed.