Broadmead Quarry explosives store plan backed by council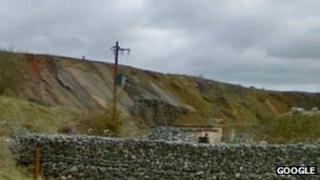 A munitions company has been given permission by a Somerset council to store explosives at a disused quarry.
Wiltshire-based Alford Technologies currently transports explosives to and from Broadmead Quarry daily in order to test bomb disposal equipment.
The company applied to Somerset County Council to allow it to store around two tonnes of explosives there overnight.
Despite objections from the parish council, the request was unanimously approved by a committee earlier.
Westbury sub Mendip Parish Council had lodged an objection to the application citing security and safety concerns.
Roland Alford of Alford Technology said: "If we're using explosives on the site and we have to transport them in every time, we're increasing the risk of being in an accident so the preferred way to do it is to move most of it and store it and then you don't have to have to keep transporting it on public roads."
The company said it would only store overnight "a fraction" of the two tonnes of explosive it has got permission for.