Weston's Tropicana pool demolition halted for review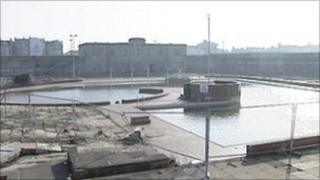 Demolition of an open air swimming pool in Weston-super-Mare has been further stalled by three weeks while the decision is reviewed.
North Somerset Council had been given approval by the Communities Secretary Eric Pickles to demolish the Tropicana.
However, campaigners to keep it, Trop (WsM), asked the High Court for a judicial review of the decision.
The Tropicana, housed in a building dating back to the 1930s, has been closed for 12 years and is derelict.
Mr Pickles has now set up a consultation to look into the proposal to demolish it.
Trop (WsM), a group of local businesses, wants to redevelop the site and reinstate a pool.
'Reconsider decision'
"It's up to the people in Weston to stand their ground and not allow North Somerset Council to bully us into a position where it's knocked down," said Derek Mead, chairman of Trop (WsM).
"There are lots of lidos all over the country that have been saved, turned into community projects and work extremely well and are profitable."
Demolition work was initially stopped after an injunction was served on the council while the request for a judicial review was under way.
"The Secretary of State has given us the opportunity to provide additional information regarding our proposals to demolish the Tropicana," said a council spokesperson.
"Our position remains the same and we have still not received any viable redevelopment proposals for the seafront site.
"The Secretary of State has requested any further evidence by January 24 in order to reconsider his decision, and as this process is ongoing, it would be inappropriate to comment further at this stage."
A Department for Communities and Local Government spokesman said: "The applications will then be reconsidered taking into account all relevant considerations received during the consultation period."